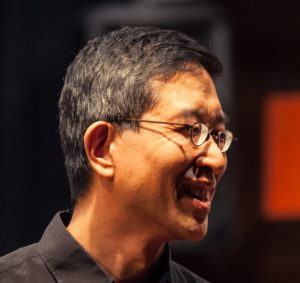 Tony K.T. Leung is a Toronto based composer whose music has been performed and broadcast in Australia, Belgium, Denmark, France, Hong Kong, Korea, Luxembourg, Ukraine, the USA and Canada by leading contemporary music ensembles. Recordings of works by the composer include CD releases from Luxembourg Sinfonietta, ERMMedia, and Canadian Electroacoustic Community.
Born in Hong Kong, Tony discovered music through his first instrument, the erhu, and later the cello. As a youth, he arranged music for a Chinese orchestra, which sparked an early interest in western music and composition. From 1989 to 1992, he studied composition privately with University of Toronto Professor Chan Ka Nin. He received further training through workshops with Arraymusic, Conductors Guild, Esprit Orchestra, National Arts Centre, Thunder Bay Symphony Orchestra, and New Adventures in Sound Art. Other performers of his music include Sound of Dragon Ensemble, Little Giant Chinese Chamber Orchestra, Hong Kong New Music Ensemble, Windpipe Chinese Music Ensemble, Vancouver Chinese Music Ensemble, Vienna Saxophone Quartet, Motion Ensemble, and York Symphony Orchestra.  From 2009 to 2018, he served as Composer-in-Residence at Toronto Chinese Orchestra.
In 2003, his chamber music "Six Degrees of Separation" was selected for the ALEA III International Composition Competition finalist concert in Boston. In 2006, his orchestral work "In the beginning" was released on the ERMMedia CD "Masterworks of the New Era," Vol. 9, performed by Kiev Philharmonic.
As a conductor, he has directed Dim Sum Ensemble, Toronto Chinese Orchestra, Hong Kong Juvenile & Youth Chinese Classical Orchestra, Vancouver Chinese Music Ensemble, and York University Chinese Music Ensemble.
Discography
Awards/Commissions/Grants
2016 – Hong Kong Composers' Guild commission
2016 – Toronto Chinese Orchestra commission
2015 – Toronto Chinese Orchestra commission
2014 – RHCCC commission
2013 – Hong Kong Composers' Guild commission
2013 – Toronto Chinese Orchestra commission
2012 – Toronto Chinese Orchestra commission
2012 – Canada Council for the Arts travel grant to attend Hong Kong Juvenile & Youth Chinese Classical Orchestra concert
2012 – Toronto Chinese Orchestra commission
2011 – Toronto Chinese Orchestra commission
2010 – Toronto Chinese Orchestra commission
2009 – Canada Council for the Arts travel grant to attend Thunder Bay Symphony concert
2007 – Sound Travels residency, New Adventures in Sound Art
2006 – Canada Council for the Arts travel grant to attend premiere in Regina
2006 – Arraymusic Young Composers' Workshop
2006 – Canada Council for the Arts travel grant to attend Vancouver Chinese Music Ensemble workshop
2004 – Toronto Arts Council Music Creators and Composers Program
2003 – Toronto Arts Council Music Creators and Composers Program
2003 – Canada Council for the Arts travel grant to attend ALEA III International Composition Competition finalist concert
2003 – Vancouver Chinese Music Ensemble commission
2002 – Canada Council for the Arts travel grant to attend New Music North Festival
2001 – Toronto Arts Council Music Creators and Composers Program
1996 – First prize in the Peel Music Festival for composition
1991 – Two first prizes in the Kawanis Music Festival for composition
Affiliations
Performances/broadcasts (including upcoming)
By country
Australia
Belgium
Canada
Denmark
France
Hong Kong/China
S. Korea
Luxembourg
Ukraine
USA
By performer/organization/event
Composers' Orchestra (Canada)
Dim Sum Ensemble
Hong Kong Juvenile & Youth Chinese Classical Orchestra
Institut International de Musique Electroacoustique de Bourges
Kiev Philharmonic
La Salle College Chinese Orchestra
New Music North
Vienna Saxophone Quartet